Nanoimprint Lithography
Nanoimprint Lithography is a mass production technology for micro-patterns proposed by Professor Stephen Y. Chou et al. at Princeton University (then University of Minnesota) in 1995.
Nanoimprint lithography is a technology that realizes microfabrication by pressing an original plate (precision mold) onto a substrate. Compared to conventional exposure systems, this technology does not require a light source or lens, and is expected to enable mass production of microfabricated patterns at low cost due to its simple equipment.
For applications case study, this technology is being commercialized in the following MEMS areas.
Macro lenses and diffraction gratings, Optical components such as optical waveguides
Hard disk patterned media and other recording media
Biochips
Optical and pressure sensors, etc.
---
Necessity of mold release treatment
Nanoimprint lithography, or NIL lithography technology, is expected to be used for highly integrated LSIs and other advanced fine patterns, but cracks that occur during mold release from precision molds have hindered its mass production deployment.
One effective means of preventing damage due to such mold release failure is to lower the surface energy of the precision mold (mold), thereby reducing adhesion and friction with the resin.
In industrial mass production applications, which are expected to expand in the future, mold durability and mold release durability are issues, and release agent coatings on mold patterns are becoming increasingly important.
The three main mold release coating methods are as follows
Vapor deposition
Spin coating
Impregnation method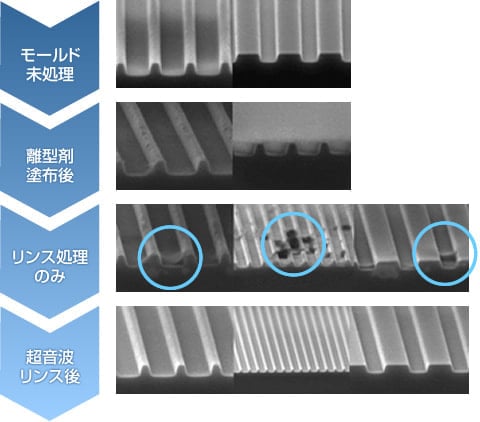 Among these, the impregnation method has advantages in terms of mass production, cost of equipment, trackability to three-dimensional patterns, and support for large coated material.
Through past equipment installations and mold release agent contract coating, we can provide mold release agent coating equipment that meets your needs as impregnation method equipment.
---
Our Services
We provide a series of services required before precision stamping in case of mass production from mold cleaning, coating and fixing of mold release agent, evaluation, and re-cleaning.
---
Examples of equipment
Equipment type

Integrated DIP/UV Cleaning Equipment (for Nanoimprint Lithography and NIL release agent)

Equipment size
W1500 D800 H1500
Coated material size
Three-dimensional objects of 100 mm or less in width
Process
Wet cleaning → UV cleaning → Mold release treatment → Fixation drying → Rinsing treatment
Control speed
0.1~30mm/sec
UV Lamp
Low-pressure mercury lamp 110W, Single lamp
UV wavelength
184.9nm、253.7nm
Illuminance Adjustment
Distance between lamp and coated material adjustable between 10 and 50mm
Input conditions
3φ AC200V 10KVA 30A
Dry air 0.5MPaEquipment Type
---
Other Services
Mold release agent
We propose mainly fluorinated mold release agents for precision molds.
The active groups chemically bond to the surface of the precision mold to form a monolayer of 2 to 6 nanometers, which allows for continuous shots without filling the microstructure of the precision mold.
It can be used for both thermal and optical Nanoimprint Lithography, and materials that can be available to glass, silicon, quartz, and metals (Ni electroforming, etc.).

---
Cleaning and Surface modification
There are various types of cleansing methods for materials, such as plasma cleaning and corona cleaning, but we propose ultraviolet cleaning (UV cleaning) in consideration of the damage to the materials.
Low-pressure mercury lamps that use ultraviolet (UV) light with wavelengths of 184.9 nm and 253.7 nm, and excimer lamps that use ultraviolet (UV) light with a wavelength of 172 nm are used to remove organic matter from the surface of precision molds (materials) and improve their hydrophilic properties, as well as this improves the adhesion of the mold release agent.
---
Wettability evaluation equipment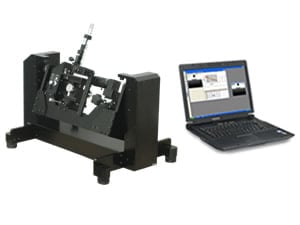 Ideal for evaluation after UV cleaning as well as evaluation of mold release process.
Lightweight, compact, and affordable.
Analysis software is standard.
No measurement errors by operators due to automatic recognition and analysis of captured images.
Captured images can be saved as data and used for log analysis.
A surface free energy calculation license is available as an optional extra.
As a means of evaluating the cleanliness of surfaces after UV cleaning, the wettability (contact angle) of a drop of water on the surface is generally used because it is simple and can be evaluated in a short time.
The equipment is equipped with analysis software as standard, enabling immediate measurement of contact angles.